About Us
Craving for Pizza? Let the Killer Tomato Pizzeria satisfy your pizza and pasta cravings. We are serving a wide range of pizza flavours for you to choose from. Jump start your pizza experience with our premium red and white pizzas composed of pumpkins, potatoes, turkey, cherry tomatoes and caramelized onions. Experience the aroma of Italy with our special pasta dishes like Puttanesca, Napolitana, Pollo and Melanzane. Finally, we also offer healthy food options like green garden salads and fish fillets. Click that Order Online button now and pick up your own Killer Tomato Pizzeria box or have one of our crews deliver it straight to your doorstep.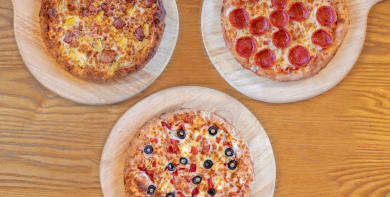 Reviews
Alex
"ABSOLUTELY DELICIOUS!"
23/07/2022
Belinda
"This was the first time ordering from The Killer Tomato and it won't be the last! Pizza was great and the ribs were fall off the bone tender."
23/07/2022
Li
"Amazing pizza. Well balanced flavour and the crunch on the crust was perfect. Generous toppings with fresh ingredients!!"
23/07/2022
Sophia
"Had to order again just to see if my first order was a dream. Nope, it wasn't a dream at all. My Gawd, that sauce is awesome!"
8/07/2022
Menu
Contact Us
Find Us
5, 94-96 Gorge rd, Newton, 5074
Opening Hours
Monday
4:00 PM - 10:00 PM
Tuesday
4:00 PM - 10:00 PM
Wednesday
4:00 PM - 10:00 PM
Thursday
4:00 PM - 10:00 PM
Friday
4:00 PM - 11:00 PM
Saturday
4:00 PM - 11:00 PM
Sunday
4:00 PM - 10:00 PM
Please note, delivery times may vary.
We deliver to
5063 Frewville, 5064 Glen Osmond, 5064 Glenunga, 5064 St Georges, 5065 Dulwich, 5065 Glenside, 5065 Linden Park, 5065 Toorak Gardens, 5065 Tusmore, 5066 Beaumont, 5066 Burnside, 5066 Erindale, 5066 Hazelwood Park, 5066 Stonyfell, 5066 Waterfall Gully, 5066 Wattle Park, 5067 Beulah Park, 5067 Norwood, 5067 Rose Park, 5068 Heathpool, 5068 Kensington, 5068 Kensington Gardens, 5068 Kensington Park, 5068 Leabrook, 5068 Marryatville, 5068 St Morris, 5068 Trinity Gardens, 5069 College Park, 5069 Evandale, 5069 Hackney, 5069 Maylands, 5069 St Peters, 5069 Stepney, 5070 Felixstow, 5070 Firle, 5070 Glynde, 5070 Joslin, 5070 Marden, 5070 Payneham, 5070 Payneham South, 5070 Royston Park, 5072 Auldana, 5072 Magill, 5072 Rosslyn Park, 5072 Skye, 5072 Woodforde, 5073 Hectorville, 5073 Rostrevor, 5073 Tranmere, 5074 Campbelltown, 5074 Newton, 5075 Dernancourt, 5075 Paradise, 5076 Athelstone, 5081 Collinswood, 5081 Gilberton, 5081 Medindie, 5081 Medindie Gardens, 5081 Vale Park, 5081 Walkerville, 5082 Ovingham, 5082 Prospect, 5082 Thorngate, 5083 Broadview, 5083 Nailsworth, 5083 Sefton Park, 5084 Blair Athol, 5084 Kilburn, 5085 Clearview, 5085 Enfield, 5085 Northfield, 5085 Northgate, 5086 Gilles Plains, 5086 Greenacres, 5086 Hampstead Gardens, 5086 Hillcrest, 5086 Manningham, 5086 Oakden, 5087 Klemzig, 5087 Windsor Gardens, 5088 Holden Hill, 5089 Highbury, 5090 Hope Valley, 5091 Banksia Park, 5091 Tea Tree Gully, 5091 Vista, 5092 Modbury, 5092 Modbury Heights, 5092 Modbury North, 5093 Para Vista, 5093 Valley View, 5094 Gepps Cross, 5095 Pooraka, 5096 Para Hills, 5096 Para Hills West, 5097 Redwood Park, 5097 Ridgehaven, 5097 St Agnes, 5098 Ingle Farm, 5098 Walkley Heights, 5126 Fairview Park, 5126 Surrey Downs, 5126 Yatala Vale, 5127 Wynn Vale